Friday
Silverstone trivia
Facts and figures on the new-look home for the British GP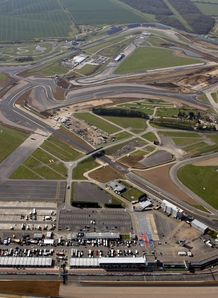 This year's British Grand Prix will be the first to be run on the new 'Arena' section of Silverstone after the Northamptonshire circuit recently underwent its biggest overhaul since the early 1990s.
It has taken £5 million to complete the new section, which has been completed ahead of further changes - including a new pit and paddock complex - promised in time for next year's race.
However, there are a host of other significant numbers that have gone into the redevelopment, and even more that go into the making of the weekend...
Click here for a circuit guide.
* The new circuit is now 3.66 miles, or 5.89km, 750 metres longer than the old track and which is expected to approximately add four seconds to a lap time, which is projected at one minute 23.13secs.
* There are now 18 turns, with the projected average speed likely to be around 157mph/252kph.
* It took 108,000 man hours, between November 2009 and March 2010, to complete the new grand prix circuit.
* 31,000 square metres of tarmac and 33,000 tonnes of asphalt was used for the new sections.
* 5,100 metres of debris fencing (of which 4,000m is new) and 7,000m metres of triple Armco (of which 4,500m is new) has been erected or re-positioned around the new circuit.
* 150,000 cubic metres of earth has been excavated and moved to form raised banks.
* 22,000 square metres of new spectator areas have been created.
* 58,000 square metres of asphalt and 56,000 square metres of gravel have gone into the new run-off areas.
* 3,000m of new kerbs have been laid, along with 4,000 square metres of astro turf, whilst 2,700 cubic metres of concrete has been used around the site.
* For the fans there are 16 giant screens dotted around the track.
* There will be over 860 highly-trained volunteer marshals on duty, which includes 405 spectator marshals, 388 incident marshals and 70 flag marshals. There are also breakdown and rescue personnel, start-line marshals, incident officers and pit marshals.
* Throughout the three days of the grand prix, a team of more than 100 medical staff, including 40 doctors, will be on site for both competitors and visitors.
* 14 people are employed to cut the grass at Silverstone, as well as 15 painters to keep it looking smart.
* The amount of TV cable laid out around Silverstone for the race would stretch from Dover to Calais and back.
* An estimated 20,000 bottles of mineral water, 10,000 bottles of wine, and approximately 8,024 bottles of champagne will be consumed during the weekend, with approximately 13,340 pieces of cake eaten.
* 3,583 catering staff will be on hand to serve, which includes 127 chefs.
My 1st British F1 was a bit hair shirt, heck most of the racing in the UK seemed to be that way. It looks like that may have changed in the last 25 years.

Posted by: vonKrag at 07 | No Comments | Add Comment
Post contains 551 words, total size 6 kb.
Thursday
Happy, Happy! Joy, Joy!
Oh my! The F1 silly season is starting early this year, Bruno Senna won't be at Silverstone. He's been dropped by Hispania and that puts them on the hot seat for season money. It'll be fun to watch what happens & I think Renault did well by signing RK as soon as they did.
Posted by: vonKrag at 13 | No Comments | Add Comment
Post contains 58 words, total size 1 kb.
Thursday
14kb generated in CPU 0.02, elapsed 0.0343 seconds.
32 queries taking 0.0243 seconds, 59 records returned.
Powered by Minx 1.1.6c-pink.